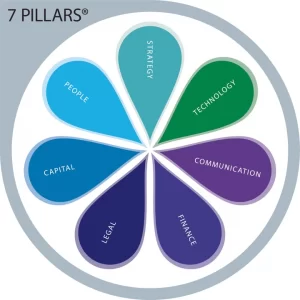 What is the 7 Pillars™ Sustainable Business Accelerator?
We support small businesses by providing deep business supports for income growth and sustainability. Our 7 Pillars™ Accelerator advances small businesses through specialized technical assistance and connects these businesses directly to revenue and growth opportunities.
The 7 Pillars™ Accelerator integrates into the existing incubator/accelerator ecosystem by specializing: strategically on "last mile"; demographically small businesses led by historically underutilized businesses, disadvantaged persons and/or companies located in low-to-moderate income communities; and Sector-wise on a subset of business that will be determined from time-to-time.
What are the 7 Pillars™?
The 7 Pillars™ are: Strategy + Technology + Communication + Finance + Legal + Capital + People.
We believe with all 7 Pillars™, your business is structured to grow.
Without one of the 7 Pillars™, we believe your business is taking undue risk of losing market share in its industry.
Why 7 Pillars™?
"By participating in the UPMC Supplier Diversity Omicelo Cares 7 Pillars™ program, Davis Consulting Solutions was able to receive customized services for our new recruitment software and one-on-one technical assistance. All of which is critical for our success, and for that I am extremely grateful."
Danielle Davis, Ph.D.
President & CEO
Davis Consulting Solutions
If selected for the 7 Pillars, what is required of me and my organization?
6-month cohort (5 to 10 hours a month)
Attendance during bi-monthly Strategy Meetings
Quarterly attendance at activities/networking opportunities
Completion of the 7 Pillars™ Accelerator Assessment
Financial Disclosure
Ready to apply?
Contact us at info@omicelocares.org or complete the interest form below.